Elements of Peace
The elements of peace are the various ideas, concepts, facilities, tools, and so on that need to be in place to create genuine peace that will last over the centuries and millennia as our legacy to future generations.
Non-violence
One of the hallmarks of the modern world is impatience. "Power grows from the barrel of a gun" said Mao. It remains to be seen if Mao's empire will last as long as Gautama Buddha's has; it certainly has not made people as happy, and it certainly has squandered far more lives.
The problem with non-violence is it takes time. Changing hearts one at a time is slow, and simply grabbing power and enforcing one's ideas seems so much more attractive. The arguments for force and violence are obvious and sometimes strangely beguiling, whilst the arguments for non-violence and dialog are subtle and sometimes hard to accept.
Mohandas (Mahatma - great soul) Gandhi, a Hindu, based his personal philosophy of non-violence upon the teachings of three religions, Hinduism, Buddhism, and Christianity. Deep down, the wisest and noblest of our great teachers have tended to converge upon the same message.
Is refusing to do violence absolute? Personally I do not think so. Sitting by while violence is done to the innocent seems to me to be selfish: I can feel good for being non-violent, but someone else pays for it. One of the paradoxes here is that sometimes we fail, sometimes life forces us to do what we abhor. This is one of the breakthrough insights of the Principle of Goodness as an ethical guide for living: it tells us what we must try to do, not what we have to succeed in doing: never attempt to hurt the innocent, always try to benefit everyone. But a policeman faced with a murderer might be forced to kill the murderer. He has failed to benefit everyone: but that was not what he ethically had to do: he had to try, not to succeed. If he had even a slight chance to do so, he should reason with the murderer before pulling the trigger; but in the end, he might have to pull that trigger.
One thing I wish to show as this website develops is exactly how and why we can escape the slippery slope that starts with admitting that the policeman might be justified in killing the murderer, and ends with agreeing that terrorists are justified in murdering innocents in the name of 'liberation', 'freedom from oppression', and so on.
Let us uphold the best and finest ideals our species has produced - and non-violence is one of them. But let us also ask the hardest possible questions about our beliefs, subject them to the test of fire and see how they cope.
The Love of Truth
It is a sad fact, I suspect, that we are in a very tiny minority, those of us who love truth and are prepared to seek it no matter how it disturbs our comfort zone.
Most people want affirmation from their social group more than they want truth. I think we have a very dangerous situation here. Social affirmation probably does benefit the individual more, on the whole, than knowing the real facts. Some facts are profoundly discomforting, whilst the consequences for disagreeing with the group (and especially those in power) can be immediate and catastrophic. But humanity now has the collective ability to destroy the potential for our planet to support human and a great deal of other life. Imagine a functionary in North Korea right now. The country's insane ambitions could precipitate a nuclear war, but the functionary who mentions the fact will be immediately sent to a gulag. So the shunning of truth will continue.
Those of us fortunate enough to exist in the western democracies of recent years have been privileged to live in the best and most open societies, the ones most encouraging of human happiness, that have ever existed. For some strange reason, acknowledging this truth has become socially unacceptable, and as a result we are steadily de-constructing those free societies and turning them into the sorts of societies that we already know (if we can look truth in the face) don't work.
The preference for social acceptance over truth is a mortal danger to humanity and even to life on Earth. Let those of us who are willing to put truth first, to love it and accept it no matter the cost in terms of social ostracism and hatred from those who must live in their comfort zone, let us stand firm as the true upholders and protectors of humanity and of all life on our planet.
The Principle of Goodness - Links and Information
The inspiration for this website is the Principle of Goodness [1], a new ethical insight that solves the problem of failure of care, and places ethical decision-making where it belongs - into the hands of each and every human being. As the background for understanding why our take on building peace might not be the usual one, we will be adding new links and information to this page from time to time.
Academic Site - contains papers from conferences and journals about the Principle of Goodness.
What is the Principle of Goodness?
The Principle of Goodness is a simple statement of the wisdom of the greatest human souls. It is an ethical philosophy, a scientific theory, and an affirmation of the insights of the heart. At its core it is simply a description of good and evil:
Goodness is to try to benefit every sentient being;
evil is to try to harm even a single innocent sentient being.
Compare this to "big picture", "greatest good of the greatest number" ethics: with those, only the bulk outcome matters; with the Principle every single innocent soul is as important as all the rest of the world. The 'bottom line' is no longer the final measure of right or wrong. Pollution that causes cancer for a poor villager in a third-world country matters as much as the wellbeing of the President of the United States. "We needed the oil", or "the toxic waste plant had to be in someone's back yard" are no longer winning arguments!
It is this very care for every being capable of feeling joy or pain that separates the Principle of Goodness from the ethics that presently control political and moral decisions around the world.
The Principle of Goodness, justice, and social planning
I am convinced that peace needs more than a political solution - more than ideology, more than changed laws, better social security, and so on. The disgraceful behaviour of the Australian Prime Minister towards a hunger-striking farmer gives us an opportune example. Is the problem the lack of ethics - or the wrong ethics?
I am sure Mr Rudd doesn't think he did anything wrong by allowing someone to almost starve to death (it was good fortune that he didn't) just for want of a meeting with Mr Rudd to discuss his grievances. The 'big picture' undoubtedly demanded the death of one insignificant victim of government policies. Rudd is a utilitarian (or at least he acts and quacks like one). Utilitarianism, the near-universal ethic of our age, is particularly bad at the job most of us trust it for. Peter Spencer went on a hunger strike over de facto confiscation of his land without compensation. Justin Jefferson, writing in Quadrant [3] had this [4] to say about it:
The problem facing the Commonwealth government in Peter Spencer's case is that on the one hand it's embarrassing to have him dying of starvation up a pole because they denied him justice after forcibly taking billions of dollars worth of property in violation of the Constitution; and embarrassing to be caught out ignoring him, and lying to the population that it was all the States' fault. But on the other hand, the Commonwealth has stolen too much property to be able to pay for it; and is too greedy to give it back.

It is no defence of this injustice to say that other environmental and planning laws also restrict people's private property use-rights. That only begs the question whether they also represent unjust acquisitions.

It does not answer to assert that government acts in the national interest. That is precisely what is in issue. If it's in the national interest for the government to take people's property without their consent in breach of the law by threatening them with force, then presumably armed robbery and extortion might be in the national interest too.
Jefferson goes on to list various arguments that don't work: the laws are to protect native vegetation; native vegetation acts were done to protect biodiversity; ecological sustainability; and so on. But read between the text: a common feature in all the arguments that Jefferson demolishes is that they are based on bottom-line, "this is better than that, so do this" thinking. Indeed, we all imbibe this thought pattern from the moment we are born; many will ask: "But what else can there possibly be?"
The Principle of Goodness [5], that's what. And it solves all these ethical dilemmas. The basic problem is stated in Jefferson's first paragraph: the government has taken so much private property it can't pay for it and is too greedy to return it to its rightful owners. Now the government might choose to follow this policy regardless of ethics, and no ethical argument can persuade someone who deliberately choose to behave unethically; but I don't think that happens very often at all. More likely, the government thinks it has chosen "the lesser of two evils", or "the best for the majority", or "the environment overrides the welfare of the few" - or some such argument based on some kind of utilitarianism.
There are quite a lot of utilitarianisms, and they are not all consistent with each other. There is the well-known utility of "the greatest happiness of the greatest number" (as in the first two hypothetical excuses in the previous paragraph), and then there is the utility of the superior, or more pressing, purpose (as in the last hypothetical, in which the environment trumps human interests). People will swap between utilitarianisms from moment to moment, often unaware that their beliefs and choices, taken as a whole, are inconsistent and mutually incompatible. For example, many who will regretfully, but willingly, allow Peter Spencer to starve on his pole trying to protect his rightful property, will use the superior-interest argument that the environment trumps human interests. But a moment later they may be found defending agonising experiments on animals to find cures for human diseases, because human interests trump animals' interests. Is it that an entire species trumps human interests but isolated animals do not? What, then, of exterminating the polio virus? Is it that the environment only trumps human interests because it serves the greater human interest of supporting the human species? But many environmentalists consider humans themselves a disease to be wiped out. And, of course, however many environmentalists will agree with expunging the fruit of Peter Spencer's life's work, I have yet to see a single one who will so willingly cooperate with similar action against their own interests. Utilitarianism only works 'for other people'. And one way or another, utility arguments end up a hornets' nest of personal judgments for which no compelling and convincing argument can be made: buy it or not, your choice, but never ever will it help a society sort out the mess of competing personal interests and beliefs.
Not so the Principle of Goodness, a succinct statement of an age-old spiritual insight: Never deliberately harm an innocent, and always try to achieve benefit for all sentient beings. From Buddha to Jesus to Socrates to Gandhi, all the greatest souls have practised it. In this case, it simply prohibits deliberately wrecking a few people's lives for the good of the rest of us. Don't surrepticiously confiscate people's land. Is that unworkable? Rudd can certainly obey that rule, the only question is, will he be re-elected if he does? Well he would have to start by either not confiscating the land or paying just compensation. In the former case he could argue to the electorate that the cost was too great - tot up the figures and show us. In the latter case he could say "It would cost X billion dollars and we need to pay it to avoid so-and-so disaster." I think a reasonable politician could sell either of those two propositions if the figures made it good policy - as long as stealing land is not put on the table.
And the way to keep it off the table, of course, is to demand ethics in public life in general: No, no one "has to take the hard decisions" - a euphemism for deliberately harming someone. And the ethics must be the Principle of Goodness, not nosey-parkering into things that are none of our business. Forget about politicians' sex lives, and remember their ethical choices in how they run public policy. The Principle of Goodness is really simple, so simple it often looks as if nothing has happened. The very best often tends to be invisible; but things 'just work'.
The Wisdom of the Great Teachers
In December, the Pure Land Buddhist Centre in Toowoomba (Queensland Australia) hosted a major conference seeking friendship amongst religions. Here are the slides from a talk that I delivered. I hope you like them. The text of the talk follows the slides.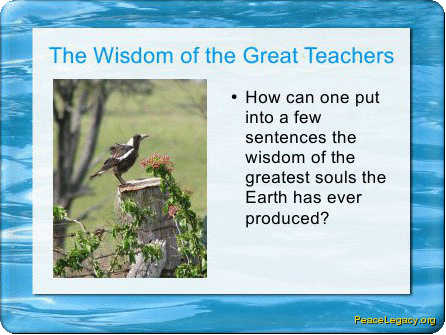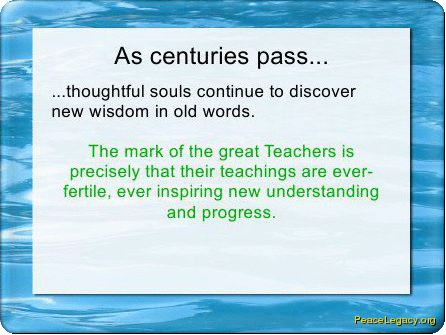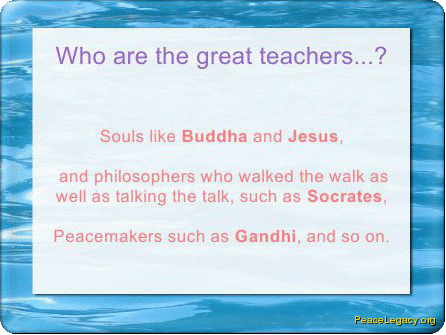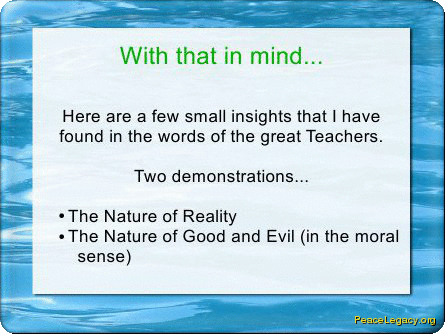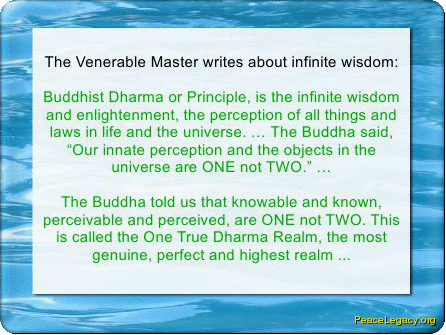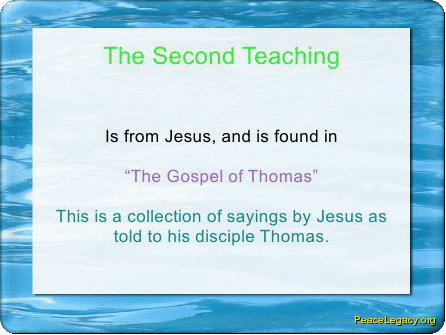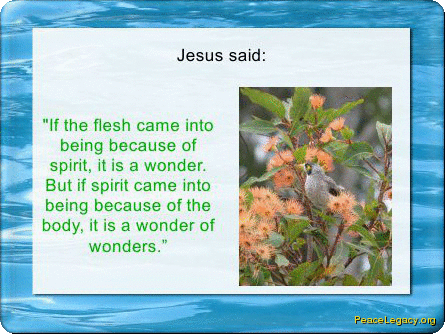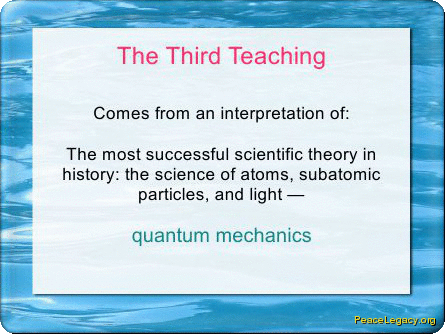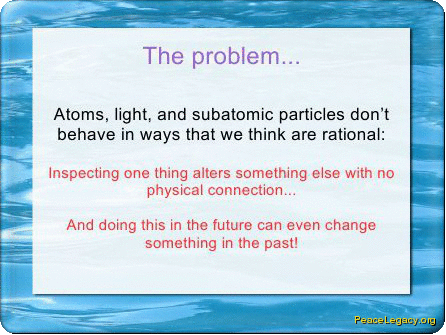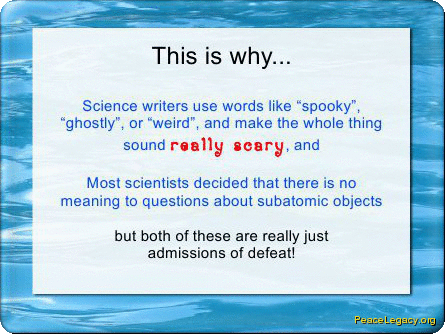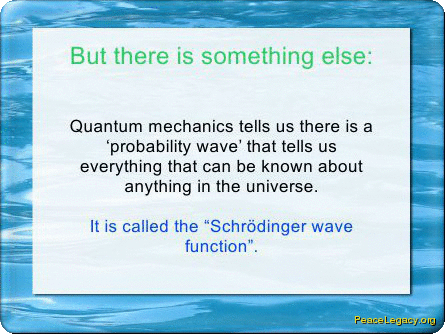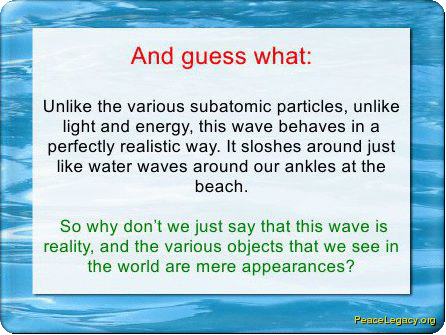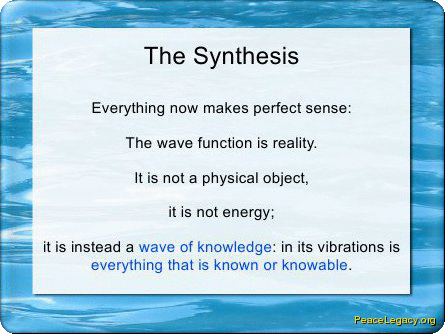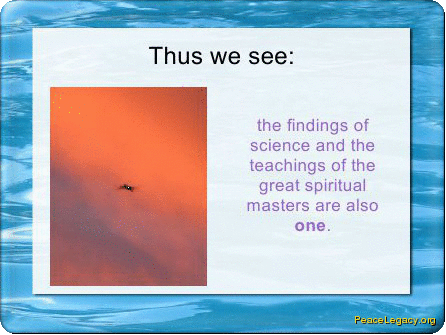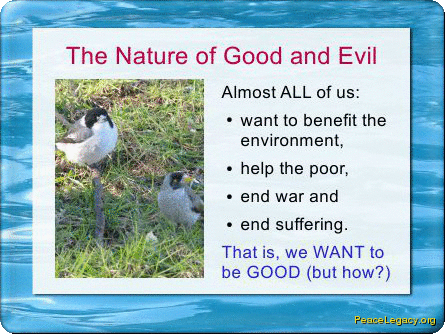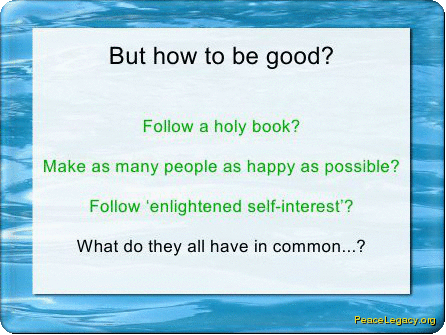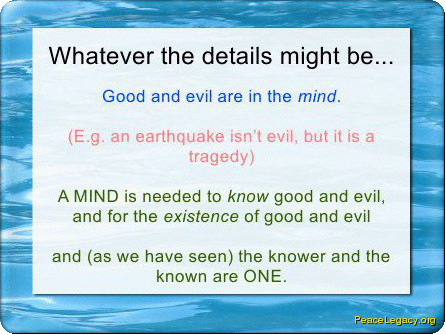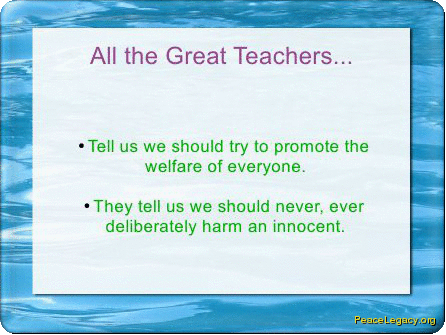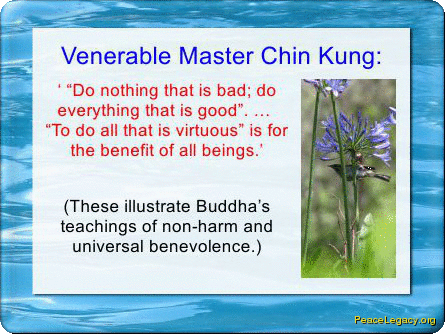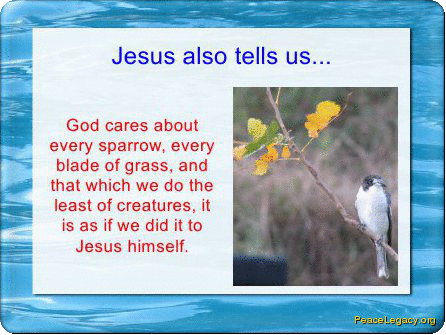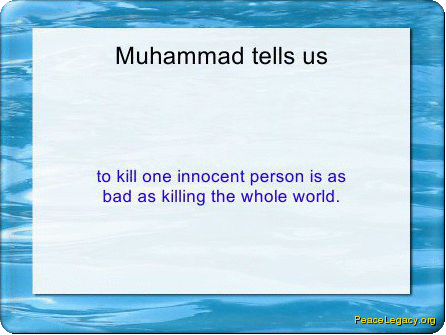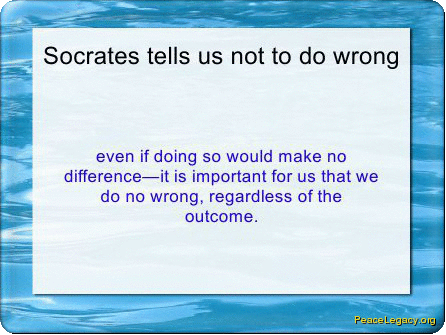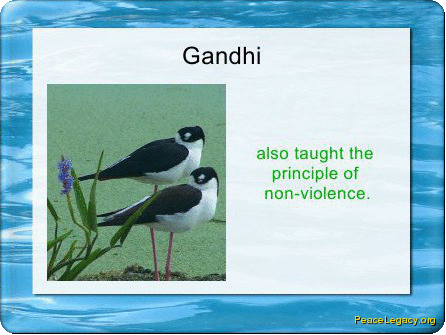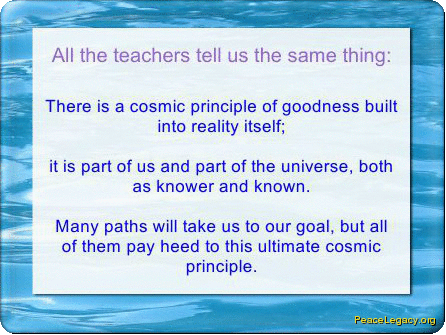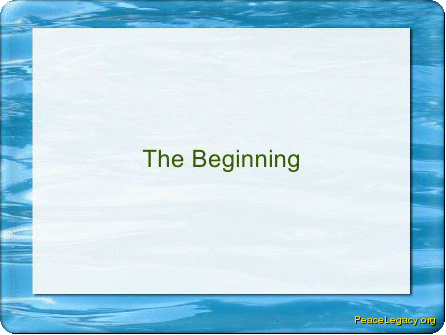 ---
The Wisdom of the Great Teachers
How can anyone put into a few sentences the wisdom of the greatest souls the Earth has ever produced? As centuries pass, thoughtful souls continue to discover new wisdom in old words. The mark of the great Teachers is precisely that their teachings are ever-fertile, ever inspiring new understanding and progress.
Who do I have in mind? I am thinking of souls like Buddha and Jesus, and philosophers who walked the walk as well as talking the talk, such as Socrates.
With that in mind, today I want to share with you a few small insights that I have found in the words of the great Teachers. I shall do this with two demonstrations.
The first of these is:
The Nature of Reality
I am going to show you that the same idea underlies three of the greatest teachings humans have ever developed in all of history. Now anyone can object, even before I say a word, that no two religions seem to agree on the nature of reality—not to mention the so-called 'scientific' view that we are all 'atoms in the void'. Yes, for sure, some say we are reincarnated, some say we are born once; some say when we die cease to exist, some that we are reborn, or enter a spirit realm, or are resurrected.
But I am not talking about details such as these, but rather about the grand design as shown to us by the spiritual Masters.
The First Teaching
So now for the first of the three teachings I wish to highlight. Venerable Master Chin Kung, through whose dedication and work this beautiful Pure Land Buddhist Centre has come into being, wrote a short book titled "Buddhism: The Awakening of Compassion and Wisdom". In the introduction itself, before he moves on to the various details and elaborations of his message, the Venerable Master tells us about infinite wisdom, and here is what he says:
Buddhist Dharma or Principle, is the infinite wisdom and enlightenment, the perception of all things and laws in life and the universe. … The Buddha said, "Our innate perception and the objects in the universe are ONE not TWO." …
The Buddha told us that knowable and known, perceivable and perceived, are ONE not TWO. This is called the One True Dharma Realm, the most genuine, perfect and highest realm as explained to us in the Flower Adornment Sutra.
The Second Teaching
The second great teaching I came across some years ago, and it is from Jesus. But you won't find it in the Bible; it is in one of the works that was suppressed for over a thousand years, and survived through an almost miraculous sequence of events. It is in the Gospel of Thomas. This is a collection of sayings by Jesus as told to his disciple Thomas. And it includes this remarkable passage:
Jesus said, "If the flesh came into being because of spirit, it is a wonder. But if spirit came into being because of the body, it is a wonder of wonders."
I'll explain what I think this means shortly.
The Third Teaching
Our first two teachings came from great teachers; the third is perhaps better called a great discovery. It is the findings of modern science.
The most successful scientific theory in history is the science that describes the behaviour of atoms, subatomic particles, and light—namely quantum mechanics.
Most people who have an interest in science will be aware that atomic and subatomic things behave in very strange ways. They can be in two places at once—as long as you don't look at them! Or they can behave like a wave or a particle depending on how you look at them. This is why almost every popular article on the subject uses words like "spooky", "ghostly", or "weird" in the very first paragraph.
But quantum mechanics also tells us something else: there is a 'probability wave' that tells us everything that can be known about anything in the universe. It is called the "Schrödinger wave function". Unlike the various subatomic particles, unlike light and energy, this wave behaves in a perfectly realistic way. It sloshes around just like water waves around our ankles at the beach. So I ask: why don't we just say that this wave is reality, and the various objects that we see in the world are mere appearances?
The Synthesis
And guess what: if we do that, everything makes perfect sense. The wave function is reality. And that reality is not a physical object, it is not energy in the scientific sense; it is instead a wave of knowledge: in its vibrations is everything that is known or knowable. We can now incorporate Jesus's teaching: matter does not give rise to the spirit, rather the spirit gives rise to matter. We are, in essence, spirit. The fundamental reality is knowledge, which is a mental or spiritual thing, not a material thing. The only reality of the material world is that it is the appearances presented to the spiritual mind. As Venerable Master Chin Kung points out from Buddha's teachings, the known (the reality behind appearances) is the knower (the knowledge in the mind) are indeed one, not two.
Thus we see that the findings of science and the teachings of the great spiritual masters are also one, not two.
The Nature of Good and Evil
For the second of my two demonstrations of the wisdom of the great teachers, I will briefly talk about the difficult issue of the nature of good and evil. (And here I must stress that I am talking about 'good' in the moral sense, of a good will, not 'good' in the practical sense of good fortune, good luck, and so on.) I believe most people want to be good. We want to benefit the environment, help the poor, end war and suffering. Except for a very, very few afflicted individuals, who does NOT want these things?
But just as we saw with the nature of reality, the prescriptions for how we should behave to get the best outcomes (that is, how in detail DO we do or be good?) also vary as much as our opinions on reality.
Some people say we should do whatever a certain holy book says. Others say we should make as many people as happy as possible. Others say we should follow 'enlightened self-interest'.
But here is one thing all these viewpoints have in common: whether something is 'good', in the moral or ethical sense, is a question about our minds. An earthquake isn't evil—nor is it good—it simply is, and we have to deal with the consequences. A mind is needed before something can be morally good or evil, and as we have seen, the mind is the basic nature of the knower and the known, which are ONE.
And there is more. I noticed some years ago that all the great teachers tells us these two things:
They tell us we should try to promote the welfare of everyone.

They tell us we should never, ever deliberately harm an innocent.
As examples of the teachings of Buddha, Venerable Master Chin Kung tells us (p70): ' "Do nothing that is bad; do everything that is good". … "To do all that is virtuous" is for the benefit of all beings.' These illustrate Buddha's teachings of non-harm and universal benevolence.
Jesus also tells us that God cares about every sparrow, every blade of grass, and that what we do to the least of creatures, it is as if we did it to Jesus himself.
Muhammad tells us that to kill one innocent person is as bad as killing the whole world.
Socrates tells us not to do wrong, even if doing so would make no difference—it is important for us that we do no wrong, regardless of the outcome.
Gandhi also taught the principle of non-violence.
All these teachers tell us the same thing: that there is a cosmic principle of goodness built into reality itself; it is part of us and part of the universe, both as knower and known. Many paths will take us to our goal, but all of the paths that actually arrive pay heed to this ultimate cosmic principle.
Ron House