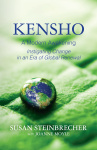 KENSHO: A Modern Awakening is a one-of-a kind collection of stories, inspiration and insightful information from profound people living seemingly ordinary lives – who are changing the world in extraordinary ways!
If the negative news that pervades our daily lives makes you feel untethered and cast adrift, the message of KENSHO will help you gain the perspective to get back on track and to see the world in a renewed light.

At the heart of KENSHO you'll discover:
~ a deep, intimate sense of where we are headed as a global society
~ why more and more people have become disenchanted with corporate life and long to do something that has meaning and value
~ why corporate social responsibility is coming to the forefront of our consciousness
~ when we create more balance in both our professional and personal lives we allow ourselves to focus on what's really important
~ how the work-place is being redefined through philanthropy, authentic leadership, work-life-balance, social media and attention to the importance of wellness
~ why the path to enlightenment often comes through a crisis
~ dozens of interviews from remarkable people and companies who are positively changing our world
~ how to act as a catalyst for change and "awakening" in your own life and your community
~ ground-breaking research on the astonishing ability of the brain to change
~ the many benefits of living mindfully
~ how to break free of stagnant habits and bring awareness to how your thoughts shape your experiences
~ the "age of imagination" and innovative ways to tap into the endless source of creativity
~ a host of tools, information and exercises that encourage change — ultimately inspiring you to live a healthier more fulfilling, conscious life

ORDER YOUR COPY TODAY TO RECEIVE DOZENS OF LIFE-CHANGING BONUS GIFTS!
VISIT WWW.KENSHOBOOK.COM FOR MORE INFORMATION.
Business owners, scientists, journalists, filmmakers, authors, philanthropists and researchers are among the sources and interviewees that weigh in on a variety of subjects from business and personal development to social change and environmental issues. Some of the extraordinary interviewees include: James Van Praagh, Byron Katie, Judy Martin, Marci Shimoff, Peggy McColl, Dr. John Hagelin, Leo Babauta, Dr. Fred Travis, David Houle, Tim Sanders, Dr. Jack King, Dr. Sandra Bond Chapman, Noah Hutton, Mike Michalowicz, Dr. Marsha Lucas, Tony Schwartz and Dr. James Nicolai.