Last Sunday saw the very successful fifth Toowoomba Languages & Cultures Festival. Toowoomba, despite its low profile, is actually the largest inland city in any Australian state; it is the major settlement centre for Sudanese refugees to Australia, who have rapidly become valuable members of the local community and who provided many of the volunteers to run the Festival.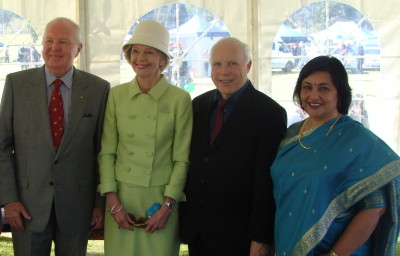 The following is the address given at the Festival by Gitie House, the other founder of this website. Gitie is herself an immigrant to Australia, having been born in Delhi, India, and was even there of mixed background of Indian and long-time Iranian immigrants to that country. As such she is very qualified to tell Australians (and other westerners) something they need to understand about their own culture. Here is her speech:
A very warm welcome to everyone at the fifth Toowoomba Languages & Cultures Festival. Your Excellencies The Governor-General Ms Quentin Bryce and Mr Bryce, we are deeply honoured and extremely privileged to have you visit us today.

We acknowledge the original custodians of the land, the Jaggera and Gyabul people and are honoured that Uncle Darby is with us today. We are delighted that you could come today. Your presence makes this event even more special.

This festival plays a very important role in creating a cohesive community. There are two key components to this. The first is in providing people from all cultural backgrounds the opportunity to share their cultural heritage through song, dance and food and other fun activities in a safe environment where they feel welcome and appreciated for their contributions to this region.

The second element is inherent and not always clearly acknowledged. And that is the beautiful, warm, open, secular and democratic environment in Australia that welcomes people from so many different backgrounds from all over the world and gives them an equal opportunity to have a go to improve their lives and reach their potential.

The world has shrunk. One can take almost any country in the world and we will find a huge diaspora of people scattered across the globe. Many of the people living in these diasporic communities feel alienated. They are not accepted in the country in which they were born and bred because their ethnic origins are from another land. They are alienated from that land because they do not live there. Here in Australia, they are able to be themselves and share their best regardless of their ethnicity or where they were born.

This festival is also a celebration of the big heart and will of the Australian people that has made this possible.

There are hundreds of organisations, community groups, businesses and volunteers who work in close partnership and give very generously of their time, resources and services in many forms to create an event of this kind. The list is long and it is not possible to mention everyone here. But I would like to take this opportunity to acknowledge some of the foundational contributions.

The first is the Modern Languages & Teachers Association of Qld, Darling Downs Branch who do an extraordinary job of creating interesting activities and workshops for the children. Without the work of these wonderful teachers, this event would not be half as successful.

We are also very grateful for the grant we receive from Multicultural Affairs Qld, which pays for much of the infrastructure required to host this event. We are growing and aim to become a self-sustainable event, but that is still a few years away and the funding we receive from the Qld Govt is crucial for the continuity of this event.

We would also not be here without the support we receive from the Toowoomba Regional Council. They provide this festival not only with their resources and facilities but most importantly the exemplary services of their Multicultural Office that underpins all the fantastic work being done across the region to create a harmonious, inclusive and cohesive community for all.

Last but not least are you the public. Your enthusiastic participation makes this festival a joy for all of us and is instrumental in its growth and continuity.

On behalf of the Toowoomba Languages & Cultures Festival Committee, and the Toowoomba International Multicultural Society I would like to thank all of you for your support and your efforts in making this event the success that it is and in helping us build a friendly, amicable, inclusive region.

I now invite the Mayor Peter Taylor of the Toowoomba Regional Council to officially welcome our Special Guests their Excellencies the Governor-General Ms Quentin Bryce and Mr Bryce.

More on: