"I'm on a search for the meaning of life. What can you tell me about it?" my friend I've known since childhood asked me in her email.
The question got me really excited.
This is a big topic on which much has been written and much more will be written.
I sent her some rough notes mostly in bullet points to share my thoughts and we've continued our exploration via emails.
In recent weeks I've been asked this question again by a few people prompting me to write a more explanatory article.
For readability I've spread it over a number of posts:
Part 2 – Qualities to Develop
Part 3 – Nature of the Answer
Part 4 – From A Sufi Classic
Part 5
–
What Meaning Do You Want To Give Your Life ?
Part 6 – The Meaning Comes from Within
On Seeking The Meaning of Life - Part 1: Why Bother?
Each person is a unique consciousness. Life is a journey and the meaning of life comes from how each person chooses to traverse the contours of this journey. The answer is not linear and has many dimensions. One can look at it from many angles and arrange the pieces in many ways, discovering new facets each time.
To begin with there's more than one aspect to the very phrase 'seeking the meaning of life'.
What is one really trying to understand more about?
One person could be looking for the reason for the existence of the universe with its various life forms, in particular the human life form. Another wants to learn about the relationship between one's own conscious, sub-conscious and unconscious self and how these relate to other consciousness in the universe. Still others want to know the reason for their trials and tribulations, their learnings, their unfulfilled desires compared with those of the seemingly successful and prosperous.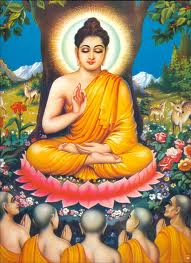 Discovering one's higher self and its connection to the universal supreme consciousness is often a prime motivator. Others want to understand the roles and demands placed on them by their family and their religion and find ways of reconciling these with evolving values and ethics in the broader society. New insights about consciousness influences their choices when faced with fixed duties and obligations. Fear of rejection prevents many from even starting the quest.
Breaking boundaries in seeking to expand one's understanding of God, the nature of salvation and the relationship between the physical and spiritual dimensions of life tends to create massive turmoil in a person's inner and outer world. The journey of discovery is often long and painful, many describe it as the dark night of the soul.
Not only are there a myriad more aspects to investigate, but as one begins to consider the answers one finds that each topic gives rise to many more questions. As the answer to one question emerges, new threads can lead to other topics giving different and possibly conflicting views. Even as one reconciles the two, one can find oneself back at the start having to re-question and relearn the same issue from yet another point of view, and one can feel like one is going round and round in circles with the only way out – the key being locked in the elusive meaning of life itself.
A few metaphors come to mind:

Like the largest expo in the universe arranged as a hive of exhibit halls where the interconnecting corridors keep changing; every turn takes you to a new place and when you try to return to a previous spot, the path and exhibits change completely leaving you with an eerie feeling that the old and familiar is only a step or two away yet somehow out of reach.

The inside of a huge dome where the inner walls are made of countless mirrors of multidimensional polyhedron shapes of different sizes. When one holds a candlelight, different parts of the walls light up reflecting the flame, or reflecting an image of the flame, or a reflection of an image of the flame, or just a reflection of a light pattern formed by the flicker or even its shadow. Each flicker of light changes the reflections and each time you look, you see something different. When you try to find what you saw only a moment ago, it vanishes never to be seen again.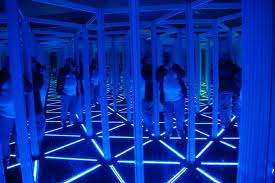 © Copyright Mike Pennington and licensed for reuse under this Creative Commons Licence
Like a continuous changing hologram or looking at the patterns in an ever changing hall of mirrors). In "The Holographic Universe", author Michael Talbot describes many interesting experiences.
Why bother with The Meaning of Life – What is this mad Urge, Spark or Fire that drives some of us insane?
Some smugly say that they don't waste their time seeking the meaning of life, because they are so content with their lifestyle, family and religion. They say only those who are unhappy with their life seek to find its meaning.
Well, it takes all kinds to make the world. Dissatisfaction is the mother of growth. If a seed was content being a seed, if it never expressed an urge to expand and explore outside itself, it would never sprout into a seedling and then grow into a mighty tree.
So what is the hunger that drives a quest for greater truth?
Lord Buddha, deeply affected by the grief of his subjects, dissatisfied with the rituals of the Hindu monks of his time went in search of a way to eliminate suffering, and gained Enlightenment.
Sir Raja Ram Mohan Roy

, one of India's greatest reformers was spurred on by the tragic death of his sister who recently widowed was forced to be burned alive (custom of Sati) at her husband's cremation. He went on to reform Indian society and get this law repealed.
Great religions have been born out of the dissatisfaction of the pure soul who was not content with the narrow-minded, rigid and limited understanding of his gurus from the former old religion.
So, as a seeker - what is your reason and how motivated are you to find the truth?
A personal tragedy of a loved one being struck by unexpected fatal illness or an accidental death before their time, or a near death experience are some of the changes and chances of life that spur a soul to rise out of their comfortable mould, start questioning their cherished paradigms and seek the meaning of life. Some hope to fix what's broken in their life which could be a damaged relationship or the derailment of a glowing career with the hope the quest will lead them to healing and recovering what was lost.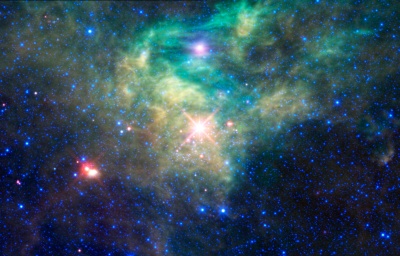 We know from quantum physics that the whole universe is a single, complex, intricate, wave function of which consciousness is an integrated whole. Our personal consciousness while unique is deeply connected to the universal consciousness and our individuality is an integral part of the whole. That is not the same as having no identity or being an unrecognisable part of a uniform collective. Every rose on a bush is breathtakingly unique and it takes a multitude of roses each flourishing in its own uniqueness to make the grandeur of a spectacular rose-garden.
Each endeavour is just as unique even though it may be following general patterns of spiritual journeys described in the legends.
In tomorrow's post I share some pointers re the qualities that we need to develop along the way.